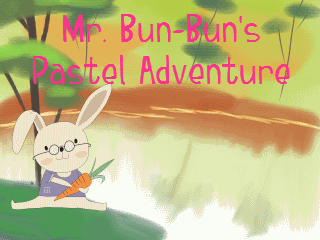 Mr. Bun-Bun's Pastel Adventure
A downloadable game for Windows
In the sleepy little town of Animalton, Mr. Bun-Bun has been asked to gather the three Joyful Gems so the Church of Pastel can put on the town festival. Can YOU help him find them? What about the THREE different endings in this game? Or the REAL secrets behind the Church of Pastel? Play Mr. Bun-Bun's Pastel Adventure to find out all the answers to these questions and MORE! It's like Beatrix Potter and Shirley Jackson had a horrible, horrible baby!
With graphics by White Screw Shop, and music and sound by Maou Damashii, TAM Music Factory, and Vita-Chi Sozaikan. Made for RMN'S Everybody Make a Dumb Game This Weekend event.
Install instructions
Once you extract the game, install the fonts included in the folder or the text will look weird.
Comments
Log in with itch.io to leave a comment.
aww so cute, a must play~

I remember playing this back on rm.net! I love how weird, cute and creepy it is at the same time! (Also bunnies and interact-able objects!) And rm2k/3 has some unique vibes. Would recommend for a short little bit of fun. And you uploaded your games here too, cool beans. ^^
Thanks! I haven't gotten much attention here yet, but hopefully that'll change soon. ^^;