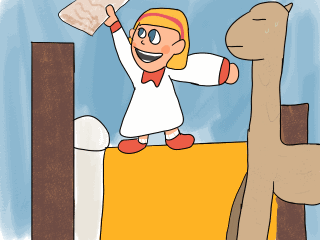 Bedtime Adventure
A downloadable game for Windows
Bedtime Adventure is a short, one-room game about a little girl who's getting ready to go to bed. Help her go through her bedtime routines, like reading bedtime stories and having late night snacks, and see if she can finally go to sleep. A good game to play if you want to relax.
Featuring:
-Over ten different bedtime routines! (though one is a repeat)
-Premium alpaca content!
-Custumizable music and menu graphics!
-Homework!
-A TV show that teaches the true meaning of art!
-And more!

With graphics by White Screw Shop, VIPRPG, and First Seed Material, and music & sound by TAM Music Factory and Maou Damashii. Originally created for the Bedtime Jam over on Glorious Trainwrecks.
Install instructions
Once you extract the game, install the fonts in the game's folder or else the text will look weird.